Underfloor Heating Systems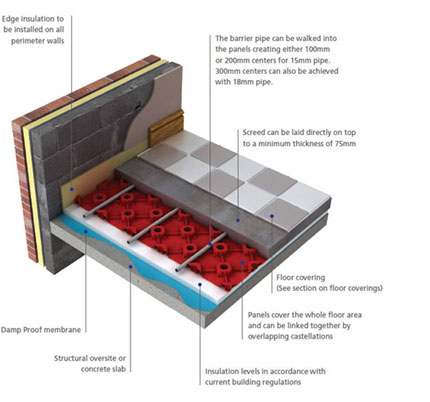 It offers a heating alternative to radiators in bathrooms, kitchens, an entire house - or simply a means to warm up a cold floor on an early morning in winter.
Underfloor heating explained
With a water-based underfloor heating system, a series of pipes connected to your boiler or heat pump which circulates warm water throughout the floor to heat the space.
Because the heat emitted from a underfloor system is more evenly distributed than a single radiator, the system can use water at a lower temperature, making it a more efficient way of heating your home.
According to Standard Assessment Procedure 2009 (SAP), an underfloor heating system typically improves a condensing boilers efficiency by 3% compared to radiators. As the temperature of the water in a underfloor heating system is around 35 degrees C, they are an ideal partner for Air or Ground source heat pumps.
Underfloor heating is generally associated with stone or tiled floors, but you can even fit it in a carpeted room - you'll just need to ensure that the carpet and underlay isn't so dense that it stops the heat moving upwards (a tog of no more than 1.5 is a general rule of thumb).
How it works
Underfloor heating can be installed under tiled, stone and even carpeted floors
There needs to be enough space to fit the piping, meaning you might have to elevate the floor level - not always possible if you're retrospectively installing underfloor heating to an existing bathrooms or kitchens.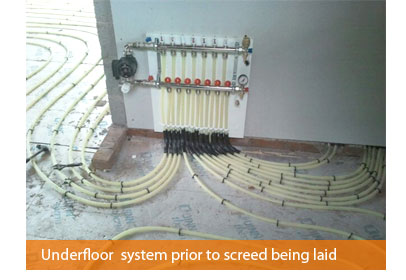 For this reason, water-fed systems are best suited to new floor constructions, where the floor itself can be designed to hold the pipework, and be adequately insulated to ensure the heating doesn't escape downwards.
According to SAP 2009 standards, there are different rates of responsiveness and efficiency depending on what the pipes are laid in. It recommends using pipes in combination with an insulated timber floor for the best results, followed by pipes in screed.
Unlike using ready-to-roll electric mat - which confident DIYers could lay themselves - installing a water underfloor system should only be fitted by professionals such as Enviro-Heat trained installers.
We will be able to advise you on the best type of underfloor heating for your room size and shape.
Water underfloor heating costs
A water underfloor heating system is often more expensive to install rather than than the electric kits but costs less to run. It will require a Enviro-Heat trained specialist to complete the installation and connect to your heating boiler / heat pump.
The Energy Saving Trust (EST) says water underfloor heating is typically more energy efficient than radiators and therefore less to run - though the savings figure will depend on how energy efficient your home is.